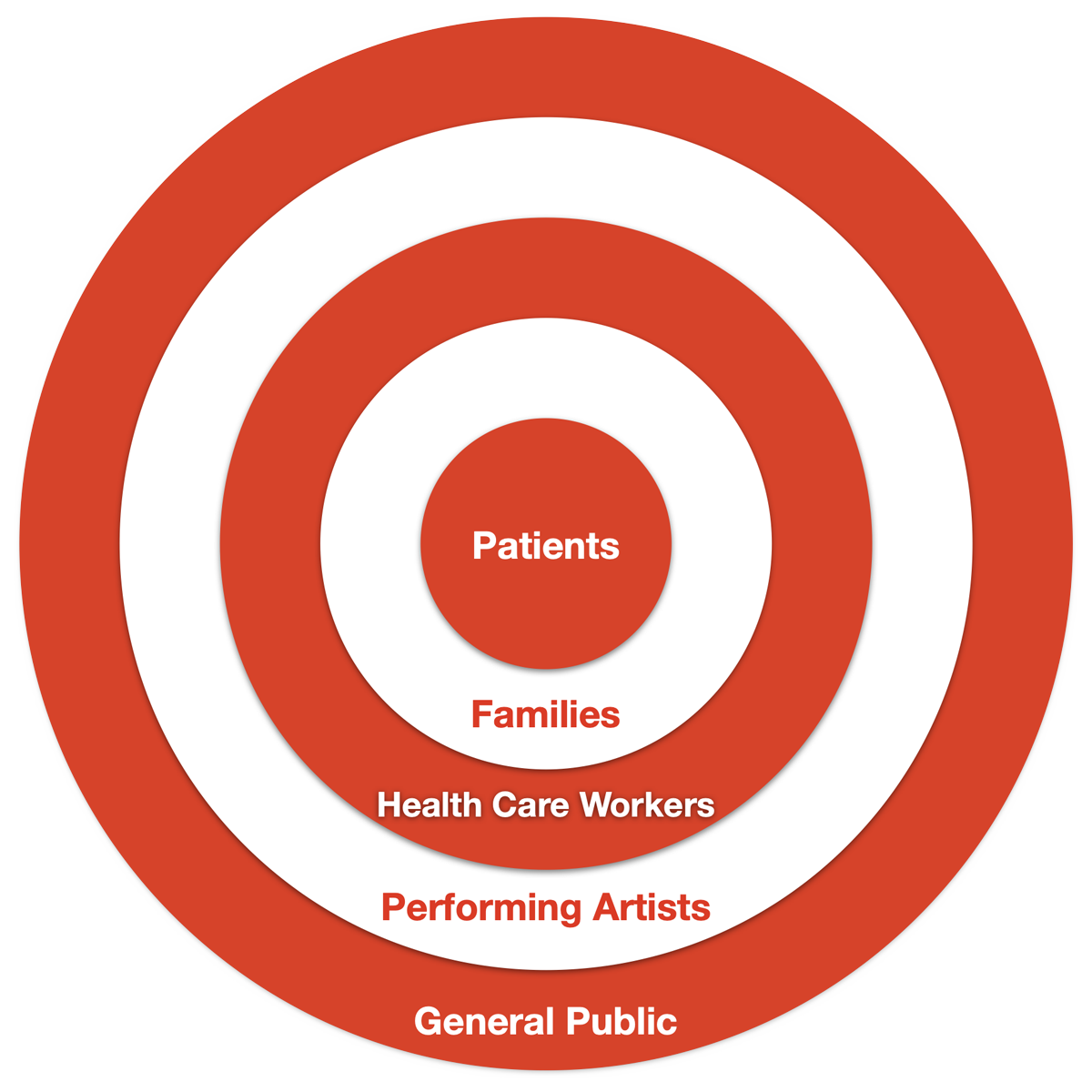 Prospect
---
The mission of the Dr.Rednose Association (a professional medical clown organization) is to train professional medical clowns and bring customized impromptu performances to medical and nursing facilities in Taiwan, to accompany patients in need with laughter, and to help them regain confidence in life and self-affirmation. The clowns will also help to relieve the stress of families and medical staff, and help frontline workers through educational and promotional activities, so that more people will pay attention to friendly medical care.
Through the presence of Dr. Rednose Association, we hope to bring joy and warmth to the medical and nursing environment, improve the doctor-patient relationship, promote the spirit of friendly medical care and holistic health care, and spread the power of humor to all corners of the world, bringing a smile to everyone's face.
High Quality Hospital Performance
Bringing the warmth of humanity into the medical space. The clowns will design customized performances according to the special characteristics of the patients they serve, and each hospital bed is a stage for a brand new and unique performance. Through the humorous performance of professional medical clowns, different rules, spaces and relationships can be created in the hospital, and through interesting and delicate interactions, patients can be freed from anxiety and fear from different perspectives, and families and medical staff can be relaxed and relieved of the stress and tension of staying in the hospital.
Professional Training
Through professional courses in performing arts and medical theory, hospital field observation practice, as well as regular rehearsals and appraisals after joining the clown team, professional medical clowns will be able to develop important abilities such as work attitude, performance skills and psychological quality.
Continued Development
To work with Taiwan's hospitals and nursing homes to find new possibilities for live performances, build good communication and cooperation with medical care workers, create a better daily life in hospitals for patients and medical care workers, and establish a sustainable development and operation mechanism to help promote the development of friendly medical care in Taiwan.
Expansion of Promotion and Advertising
To organize educational and promotional activities. Through different ways of communication and sharing, we aim to encourage frontline medical care workers and share the experience of the hospital performance with the public, so that the warmth of the Dr. Rednose Association can spread to all corners of Taiwan and inspire more meaningful connections.
Children are not "miniature" adults, and their physical and psychological needs require different medical care than adults.
The founder of the Dr.Rednose Association, Ms. Ma, Chao-Chi, graduated from École internationale de théâtre Jacques Lecoq in France. In 2014, she went back to France to study the clown doctor course, trained by Le Rire Médecin and certified by the French government. In July 2015, in collaboration with Le Rire Médecin, at the Theatre De La Sardine founded by Ms. Ma, a complete clown doctor training system was introduced. In 2017, the Red Nose Professional Medical Clown Organization, the first professional clown doctors organization in Taiwan, was established with many like-minded partners to train and motivate professional clowns to enter hospital service, and to spread laughter in the children's wards of North, Central and South Taiwan.
Currently, the association is in long-term residency at six hospitals in North, Central and South Taiwan, with more than 3,150 performances and 113,343 people visited(-2021.08) by Dr.Rednose Association in the pediatric cancer ward, pediatric and adult intensive care unit, pediatric ward, senior ward and hospital day care center. In the future, the association will continue to seek more resources and hospital partnerships to expand the professional clown performances to more people in need, hoping to make every healthcare space filled with warmth and laughter.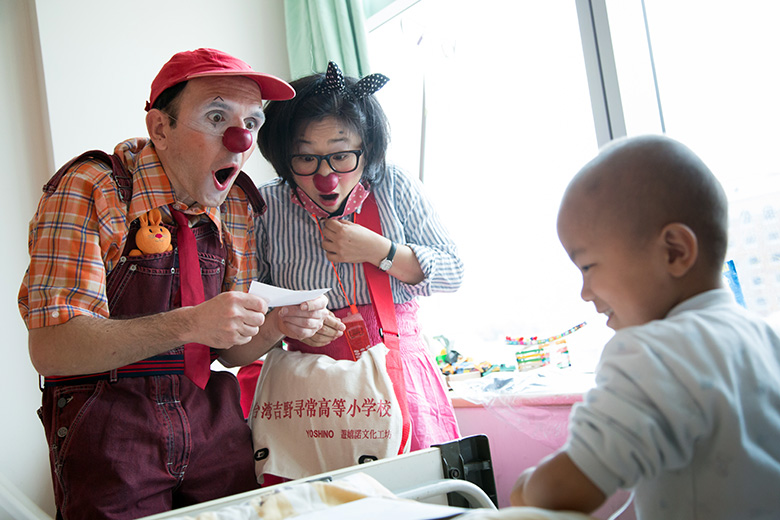 2014

Founder, Dr. Ma and her partner, Luc Ducros, have been trained by the Le Rire Médecin and certified by the French government with Code/s NSF 133. Certification professionnelle de Niveau III (Fr) et de niveau 5 (Eu).

2015

First professional clown doctor performance in Taiwan at National Taiwan University Children's Hospital.

2016

Started performing at the Taipei Veterans General Hospital, the Taichung Veterans General Hospital and the CMU Children's Hospital.

2017

"Red Nose Professional Medical Clown Association" was established and started performing at the Kaohsiung Veterans General Hospital.

2018

Representing Taiwan at the Healthcare Clowning International Meeting (HCIM).

2019

Started performing at the Kaohsiung Medical University Hospital and launched the "Dandelion Project" to tour and lecture at non-partnering hospitals.
Started performing at the long-term Care Center, Senior Ward and Adult Intensive Care Unit at Taipei Veterans General Hospital.

2020

Started online streaming performance.
Position
Name
Current
Chairman
Chao-Chi Ma
Founder, Dr. RedNose Association
Founder, Theatre De La Sardine
Director
Frank Leigh Lu, MD, PhD.
Director, Division of Pediatric Pulmonology and Critical Care Medicine, National Taiwan University Children's Hospital, Taipei, Taiwan
Convener, Child Friendly Healthcare Program, National Taiwan University Children's Hospital, Taipei, Taiwan
Y. L. Lee
Attorney-at-Law & President, Via Justice Law Offices
Amy Ho
Founder & CEO, CommonWealth Education Media and Publishing Co., Ltd
Chia-Yu Lin
Therapist & Trainer, Taiwan Hakomi Education Network
Tsung-Chieh Ma
Associate Professor, Department of Social Work, Soochow University
Yu-Hui Fu
Ph. D. Candidate of the graduate school of theatre and drama in National Taiwan University
Director (2020~2022), National Culture and Arts Foundation
Yen-Hsiang Chan
Consultant, Jieh Huey Foundation
Mei-Hua Hsueh
Theatre Director & Lecturer
Supervisor
Yo-Yo Kung
Founder & Director, Prototype Paradise
Jin-Yao Kang
Project Manager, PressPlay Inc.
Chiung-Ying Tsai
Project Planning Specialist, Chang Hong Culture & Education Foundation